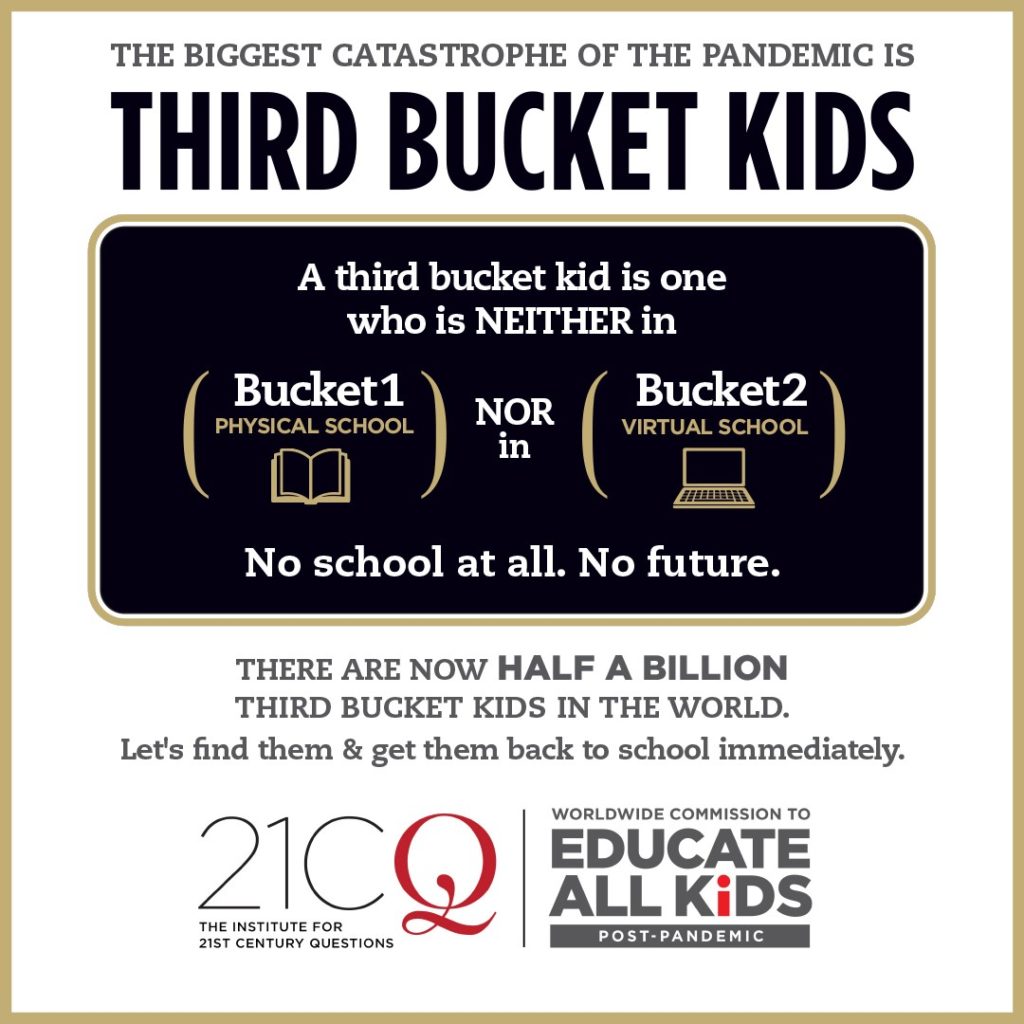 Worldwide Commission to Educate All Kids
As a result of the Pandemic, there are now half a billion Third Bucket Kids (kids who were enrolled in school before the Pandemic, but have now left the system).
The "Worldwide Commission to Educate All Kids" was set up to explore ways to re-integrate kids back into the school system post-pandemic. In March of last year, schools across the world closed. As a result, thousands of kids opted out of school and have yet to be integrated back into the school system. It is estimated that half a billion kids have been affected. This has been particularly troubling in Asia, where a much higher percentage of children have left the system and the opportunity to reach them virtually is not possible because of lack of internet. Girls especially have been affected.
There have been several summits to look at the problem including one from Canada, Asia, South America and Europe. Fifty countries in all are a part of the Commission.
An all USA Summit of the Commission was held on June 18th. Called "Finding and integrating America's "Third Bucket Kids," and Pivoting to Education Recovery and Excellence", it featured the stories of four States, (Arkansas, California, Connecticut and Florida). All four States built have built their work around three themes:
To bring this problem to the forefront.
To find these kids.
To reintegrate and retain these kids
Robert Pianta, Dean of the Faculty of Education, the University of Virginia provided an overview of the American perspective along with an summary of what is happening in the U.S. generally.
A high number of kids have left the U.S. system with roughly 20% of kindergarten age kids who did not enroll in kindergarten in the past year. The U.S. Federal Government has set aside a considerable amount of money to help with the re-entry process. The plan is built around the following questions:
What will they need when they do come back into the school system?
How do we support them academically?
How do we plan engaging activities that address their social and emotional needs?
Some strategies that are common to all include using formative rather than high stakes assessment, focusing on building relationships and well being, doubling down on community and family connections, mobilizing resources around a welcome that is robust and inviting, attention to the research about equity and student engagement, and making a shift away from remediation to an approach that looks at the whole child."
Different States have different approaches or different emphasis on re-integration of "Third Bucket" kids. Some have put a heavier emphasis on the social and emotional needs of the kids, (counseling, support and addressing the needs of the whole child). Others have put more emphasis on the academics and the need to help them "catch up" as well as addressing the loss of instruction. All of them talked about the movement away from "high stakes testing".
Arkansas:
A more formal look at reintegration with a focus on academic coaching, tutoring models, preparation for college entrance exams, along with addressing lost learning/instructional time. Like other States, attention is being paid to the social and emotional needs of the kids along with a move away from high stakes testing.
At Little Rock High School, strategies include:
Wrap around support (meals, transportation)
Strategies to reach out to "Third Bucket" kids…phone calls, home visits, social media, emails, vaccination opportunities
Moving away from grading/assignments to project based learning.
Emphasizing SEL
Transitional programs
Welcoming strategies
California:
A high number of kids who have been lost…approximately 500,000 including kindergarten age children who never registered and kids who were once registered but who now have left the system. Conversations have focused on how does the system support these kids (wellness, SEL support, counseling along with support for non-traditional students). Long term funding is needed in order to reintegrate and support these kids along with support and training for teachers.
Challenges: a digital divide, poverty, loss of employment for parents as a result of Covid, mental health needs, academic support, preparing these kids for the high school equivalency so that they can get into colleges, training programs and university. There is a need to rethink teacher training, and a movement towards support for equity, access and justice…
Leadership and support for a system needed to support students, teachers and the community.
Advocacy, the unspoken equity issue of our time. Need to elevate this conversation and advocate for the voiceless to ensure that all students receive a just education and to ensure that schools and districts receive the funding they need to do this.
Equity/inequity as a result of Covid, which has exasperated inequity. Our number one issue is equity and the need to address this in a robust way.
Florida
There are 50,00 Third Bucket kids in Florida. They knew that as a result of Covid, they were going to have a high number of Third Bucket kids. The State set out early to address the problem reaching out to these children, assuring parents that schools were safe. They set up a "community task force" to address the problem of kids who left the system as a result of Covid. They based their work on the quote by James Cormer…
No significant learning can occur without a significant relationship.
Relationship…personal, positives
Whole child…social, emotional, cognitive growth
Athletics/activties, socialization and collaboration with peers
Our theme…Maslow versus Bloom…
Focus on safety, a sense of belonging, the whole child, together again. Develop practices that are restorative, compassionate, comfortable, engaging, individualized. Re-engage by building the whole system around the child and seeing it as an opportunity to do things better.
Connecticut
Connecticut has been dealing with previous failures of high number of kids who drop out of the system. Covid has added to the numbers and the system is in the process of rethinking their approach to student engagement with an emphasis on restorative practices rather than punitive ones. Questions are being asked about the root causes of why kids drop out of school or disengage from the system. They are working towards schools as being a destination for all. Schools that:
Build practices that create positive school climates
Focus on social and emotional growth
Are caring and nurturing
Stress free and respectful
Predicable
Supportive and engaging
They see that Covid has brought to light a system that did not support the whole child, a system that was punitive rather than restorative. Covid has provided an opportunity to do things differently.
Plans are in place to plan a summit in the fall to look at how successful schools, districts and countries around the world have been in re-integrating Third Bucket kids back into classrooms.
 A report submitted by Trudean Andrews