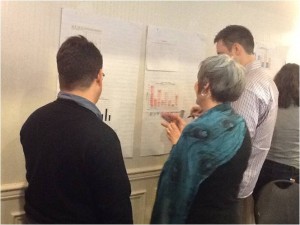 This is a reminder that Learning Forward BC has offered to facilitate up to two follow-up touch back sessions with District teams   in order to support your ongoing professional learning from Bruce Wellman's Got Data? Now What? Creating and Leading Cultures of Inquiry session on January 14. 
Some districts have already committed to certain dates. If you wish to take us up on our offer, we invite you to meet to decide what your next steps might be, and to contact us BY FEBRUARY 15 with your desired dates and times. We suggest that they be held from 4 to 6, in February or March and April or May. If you were not with a large group and wish to be part of a touchback session, please let me know and we will explore how to best accommodate your request.
Please contact Sue Elliott at srichards.elliott@gmail.com or follow-up with your request via our website http://learningforwardbc.ca to ensure that we are able to support you in your ongoing professional learning.
We look forward to hearing about how your practice might be impacted by what you learned, via a follow-up touch back session and via your response to the survey that has been sent to you in a separate email.
On behalf of the board we wish you well in applying what you have learned. Please see that attached to read more about our day with Bruce.
Please contact Sue  Elliott srichards.elliott@gmail.com 
 leave a message at this  site and we will contact you.
If your district did not participate in this session and you want to be part of this on going study, contact Sue Elliott  srichardselliott@gmail.com or leave a message at this site.