Learning Forward BC and Richmond School District: An Integrated Community SEL & Mental Health Collaborative: Creating Relationships that Make the Difference
April 21 @ 4:00 pm

-

6:00 pm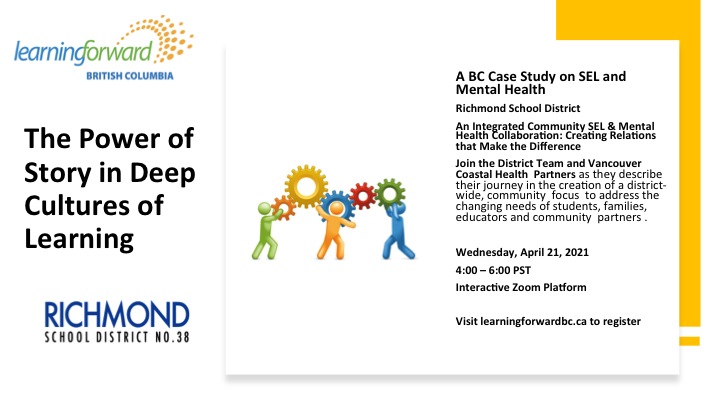 LEARNING FORWARD BC AND RICHMOND SCHOOL DISTRICT: The BC Case Study Series 
The Power of Story in Deep Cultures of Learning
An Integrated Community SEL & Mental Health Collaborative: Creating Relationships that Make the Difference
Join this presentation and conversation focussing on Richmond's story of building Social-Emotional Learning and Mental Health Literacy/Therapy programs by leveraging inter-agency relationships that have resulted in strong, consistent, and integrated planning of supports and services for children and youth in our community.
Session Date:  Wednesday, April 21: 4:00-6:00
Presenters:
Connie Easton, Curriculum Coordinator Counselling, SEL & Mental Health, SD38

Vancouver Coastal Health, Richmond Mental Health partner(s)

Richard Steward, Director of Instruction, SD38
Key Question:
How do you keep the goal of maintaining a comprehensive SEL/MH K – 12 plan in alignment with inter-agency programs and services that is flexible in order to effectively address the changing needs of students, families, educators, and community partners?
Session Overview
This will be an interactive session to allow for participants to reflect on how this approach may, or already does, impact their local community.
Introduction to Richmond's Context

Key learnings from Richmond's K-12 SEL & Mental Health implementation

Local Inter-agency Partnerships – Who, What, Where & Why

Integrating Foundry Richmond and Integrated Child & Youth teams in the local context

Looking to the future as a Community
Note: Where copyright is not an issue, resources used in the session will be made available to all participants.
Please register to reserve spaces for yourself, your school, School District Teams, and district partners.
Note there is no cost for this event.  However registration is required.
Zoom Access will be provided for all  participants upon Registration.